About
The most intriguing wines live at the intersection of Old World and New World winemaking. A modern rosé built on centuries of heritage in Provence. An old-school rosé crafted from New World dirt in Washington State. Each has its own character, its own persona. The point is to share ideas and energy and passion across regions to create soulful wines that speak to their terroir. I'm Charles Bieler, and I've been making wine this way for more than 20 years.
The Pink Cadillac
My connection to rosé goes back to the early 90s, when my father, Philippe Bieler, founded Chateau Routas, an acclaimed producer of Grenache-based rosé and red wine in the Coteaux Varois region of Provence. In 1998, we brought our dry rosé to the U.S. at a time when Americans perceived all rosé as sweet wine for the unrefined palate. I rode around in a pink Cadillac, touting the nuance and complexity of rosé, until we turned this misconception on its head.
" Together we make the kind of wine we love to drink. "
The Allure of Rosé
In 2005, we sold Chateau Routas and established Bieler Père et Fils—meaning father and son—to focus solely on rosé. In today's world, rosé is certainly trendy. But that's not why we make it. Those of us who've been at it for decades have long understood the allure of rosé. Intriguing layers of flavor. Fresh acidity. It all adds up to a vibrant wine unlike any other.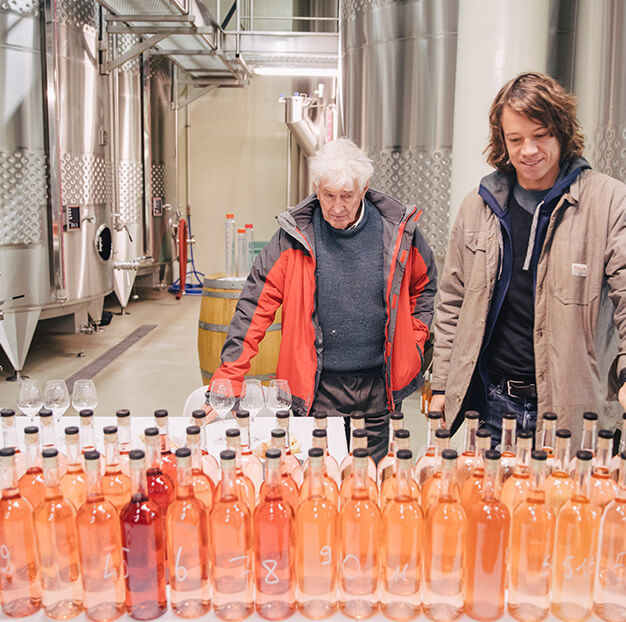 Desire to Craft
Part of the fun for me is making a wine that's a little unexpected. A wine that's equal parts edgy and traditional. It's about phenomenal fruit and thoughtful winemaking, driven by the desire to craft wines with soul. To pull it off, I team up with like-minded winemakers who bring a sort of kinetic energy to the hard-won journey that begins in the vineyard and ends in the glass. People like venerable Washington State winemaker, Charles Smith. Comrades like Joel Gott and Roger Scommegna, who share my spirit of adventure. Together, we make the kind of wine we love to drink.